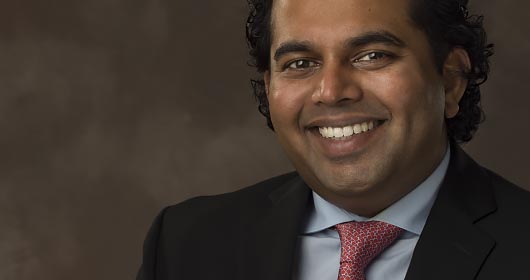 Dr. Skandhan accepts leadership roles at Statera Network
Southeast Health Statera Network is pleased to announce Amith Skandhan, MD, SFHM, internal medicine hospitalist, has been named chairman of the Physicians Participation Committee and director of Physician Integration.
Dr. Skandhan joined Southeast Health Medical Group's internal medicine hospitalist team about eight years ago. Since then, he has become the senior lead hospitalist and medical director/physician liaison for clinical documentation improvement. With his leadership in documentation and coding, Southeast Health has realized annual revenue savings. He is a physician advisor for case management and utilization review. He also serves as core faculty in the Internal Medicine Residency Program at Southeast Health and also as an assistant professor at Alabama College of Osteopathic Medicine (ACOM).
He was named one of the top hospitalists in the nation in 2018 by the American College of Physicians (ACP). Dr. Skandhan was one of 10 hospitalists in the nation to receive this prestigious recognition from the ACP Hospitalist magazine.
Dr. Skandhan received his medical degree from Vinayaka Missions Medical College, Karaikal, Pondicherry, India. He completed his medical residency and chief residency at the University of Pittsburgh Medical Center Mercy program, Pittsburgh, Pennsylvania. He received the resident achievement award among his graduating class.
Established in Dothan in 2015, Statera Network was formed by a group of physicians, Southeast Health Medical Center and the Houston County Health Care Authority to provide quality patient care at the most efficient cost under the new era of value-based reimbursement. Statera Network is a Clinically Integrated Network Organization, approved by the Federal Trade Commission, and the Department of Justice, and an Accountable Care Organization approved by the Centers for Medicare and Medicaid Services.