Southeast Health Heart & Vascular Center
Southeast Health is the region's leader when it comes to comprehensive heart and vascular care. In the Southeast Health Heart & Vascular Center we care for patients with a wide range of complicated cardiovascular conditions with some of the most advanced treatment options available. Simply put, more patients entrust us with their care than any other hospital in the region – and with that trust, comes great responsibility. That's why we bring together cardiologists, vascular surgeons, interventional radiologists and cardiothoracic surgeons to work collaboratively and drive innovation. That's also why we've invested in technology and unique programs that help us serve our patients more effectively. Cardiac diagnostic testing, advanced treatment options and supportive recovery programs can all be found at the Southeast Health Heart & Vascular Center — and they are here just for you.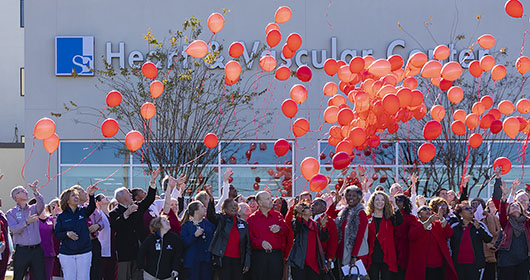 Meet Our Heart & Vascular Physicians
The highly trained and talented team of physicians in the Southeast Health Heart & Vascular Center consist of vascular surgeons, cardiovascular surgeons, cardiologists, interventional radiologists and cardiac electrophysiologists. The Heart and Vascular Center provides a full complement of clinically integrated care for all matters of the heart and the body's vascular system. Experience, technology and excellent facilities allow us to provide patient-centered, individual care.
Linda's Story
Heart Disease is the number one killer of women, and it almost took Linda's life. That's why she's sharing her story to raise awareness of the signs of heart disease.
Signs & Symptoms of a Heart Attack
Approximately 600,000 die annually in the United States from heart disease. One out of every four deaths is related to heart disease. Heart disease doesn't discriminate; it is the leading cause of death for men and women. In fact, more than half of the deaths due to heart disease in 2009 were in men.
Coronary heart disease (CHD) is the most common type of heart disease, killing more than 350,000 people annually. Every year about 735,000 people living in the United States have a heart attack.
If you experience heart attack warning signs, get help immediately. Heart attacks are not always sudden and intense. Some may start of slow and exhibit only mild pain or discomfort. Know your body and call 911 if you have any of these signs or symptoms.
*Some information courtesy of the American Heart Association
Cardiovascular Conditions & Treatments
The Southeast Health Heart & Vascular Center is in our main hospital building at 1108 Ross Clark Circle in Dothan, Alabama. Our location provides a convenient exterior entrance, covered patient drop off area, and patient registration that's just steps away from the front entrance.
1108 Ross Clark Circle
Dothan, AL 36301
334-793-8143