Reflecting on the past; preparing for the future
by Rick Sutton | CEO, Southeast Health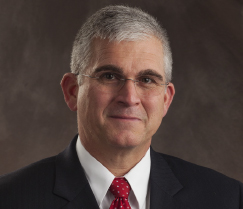 The New Year is traditionally a time to reflect on accomplishments and set goals. As CEO of Southeast Health, I am thankful for our strong team of professionals, some of which have served the community for years and others who have recently joined our organization.
Financial stability and growth
One of the most important achievements for our team in 2018 was stabilizing and maintaining our financial performance, which earnestly began in 2017.
The improvements allowed us the opportunity to re-invest in our people by providing much needed market adjustments for employees. And we also began making significant investments in equipment and technologies, as well as renovating our facilities to be more welcoming to patients and visitors.
Addressing the Nursing Shortage
We also addressed nursing shortages, an issue facing healthcare organizations nationwide. A seven-step retention plan has decreased nursing turnover and enhanced our recruitment efforts.
In addition, we are creating a positive work environment for nurses by reducing the nurse-to-patient ratio in our medical and surgical units. When fully implemented, this change will give nurses more time at the bedside, which correlates to an improved patient experience.
However, recruiting quality nurses will continue to challenge the nation's hospitals amid retirements and a national nursing shortage.
Patient Satisfaction
The year also brought an emphasis on patient satisfaction as a whole, and the work of our employees has moved our patient satisfaction indicators in a positive direction.
Standardized surveys are used nationwide to measure patient satisfaction with hospital care. The survey contains 21 patient rating categories with 11 key areas, such as communication with doctors and nurses, and responsiveness of hospital staff.
We have also implemented processes and best practices to improve the patient experience. Hourly rounding on patients has enhanced nursing communication and improved patient satisfaction. This increased presence at the bedside helps our care teams anticipate the needs of patients, which leads to fewer urgent calls to the nurses' station resulting in improved communication.
In addition, if you visit our main campus, you'll notice some significant changes in the physical environment and our culture.
Emergency Action
Our Emergency Department (ED) is one of the busiest in the region with almost 60,000 patient visits per year. As the area's only Level II Trauma Center, ED efficiency has been a priority. We have overhauled the ED by establishing zones and closely tracking wait times. Performance indicators in this area have improved, including the number of patients who leave without treatment, and are now within national norms.
Physician Recruiting
Attracting, recruiting and retaining physicians are top priorities at Southeast Health as well. Our Alabama College of Osteopathic Medicine (ACOM) has graduated two classes, and 266 new physicians are now in residency training throughout the country. We launched our first three-year residency training program at Southeast Health in July, and we now have 13 physicians training in internal medicine. When it is at capacity by 2020, we will have 39 total residents on campus.
Launching a residency program was an important step in our plan to improve access to primary care in the region, as physicians often practice near where they complete their training.
Comprehensive Stroke Care
For the seventh consecutive year, the American Heart Association and American Stroke Association awarded Southeast Health for the hospital's work in stroke care. Patients who required delicate interventional procedures to relieve blood clots or aneurysms no longer have to leave the area for treatment.
Revolutionary New Procedure
Southeast Health was the first hospital in the region to perform a Transcatheter Aortic Value Replacement (TAVR) on site in Dothan.
An interventional cardiologist and a CV surgeon work together with a multidisciplinary team to perform a TAVR procedure. At Southeast Health two physician teams have been formed and both completed an extensive training program so this procedure could be offered locally.
Superheroes During a Storm
This past year also reminded us that superheroes live and work among us. They are the first responders, emergency response agencies, and the dedicated utility crews that responded to Hurricane Michael.
We are proud of the herculean efforts of hundreds of Southeast Health employees, as well as emergency and healthcare professionals in our community, and their response to Michael.
Their many hours of planning and conducting drills ensured that Southeast Health had a plan in place for Michael – and that it was closely coordinated with emergency agencies and other local healthcare providers.
Transitioning into Southeast Health
In the last 10 years, Southeast Health has grown from a hospital into a comprehensive health system and a regional referral center serving patients in three states.
With 2,800 employees, we're the largest employer in Houston County and an economic asset in the region that should make us all proud. It's this growth that facilitated the need for a newer, regionalized brand name. On October 1, we officially became Southeast Health, which includes the hospital, ACOM, the Foundation, the Medical Group and Statera Health.
Moving Forward to 2019
For the New Year, we've set our sights on achieving top scores in patient satisfaction and becoming a Top 100 hospital nationally for the care and service we provide. Achieving Top 100 status is a journey which takes several years and the dedication of our entire team to accomplish. These are ambitious goals worthy of our patients and the community we serve.