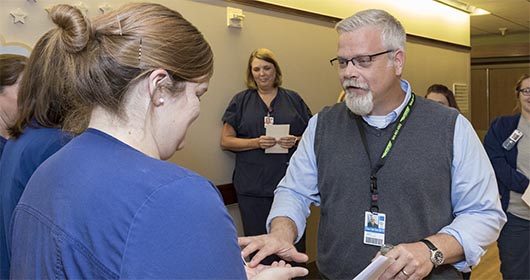 It is important for us to take care of all aspects of our patients, which is why Spiritual Care services at Southeast Health ministers to your religious and spiritual needs. We offer spiritual care to anyone who comes through our doors, including patients, their families and loved ones, and Southeast Health team members. Our clinically trained chaplains are grounded in a variety of religious traditions and trained to be helpful to, and respectful of, those of all faiths, as well as those who may not be comfortable with religious beliefs.
Chaplains can help if you are experiencing sadness, loneliness, stress or anxiety. They can also help in the resolution of conflicts or communication issues with family or staff and support you as you work your way through new or difficult experiences and make important decisions about your health and care. Chaplains are also available to provide for any cultural needs that you may have during your stay in the hospital and provide prayer, communion, anointing and other observances upon request.
Full-time Southeast Health chaplains are board certified with the Association of Professional Chaplains (APC). This means that they have completed a master's level degree, completed at least four units of clinical pastoral education, and are ordained and endorsed to chaplaincy by a recognized religious community.