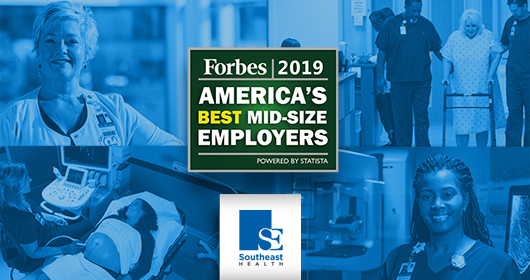 Southeast Health named a best midsized employer in America
Southeast Health has been recognized by a national publication as one of the 500 best midsized employers in America.
Forbes Magazine released its annual list of the 500 best mid-sized employers on April 17. Twenty-five industry sectors, including healthcare, were surveyed for the recognition.
"We are extremely excited about this recognition and we believe it validates our work to become the employer of choice in the region," said Kelly M. Hurt, vice president, chief human resources officer (CHRO) at Southeast Health. "It is another step in our journey to become Alabama's first Top 100 hospital in the nation."
Southeast Health made the list based on results from an independent survey of 30,000 employees nationwide. Forbes defines midsize companies as having 1,000 to 5,000 employees.
Working in conjunction with market research company Statista, employees who participated in the Forbes survey were contacted anonymously through an online panel with no input from their employer. This allowed participants to provide his/her opinion without any influence from his/her employer.
Those who participated in the survey were asked the name of their employer and to rate it from 0 to 10 on likelihood to recommend it to family and friends. A zero means they wouldn't recommend their employer under any circumstances and a 10 means they would definitely recommend it.
Participants were also prompted to evaluate other employers in their respective industries that stood out either positively or negatively. In addition, the survey included 35 questions concerning work related topics such as working conditions, salary and potential for development. Those questions were measured on a 5-point scale depending on agreement and disagreement.
In its more than 60 years in existence, Southeast Health has grown from a community hospital to a regional referral center responsible for the health and wellness of more than 460,000 residents in southeast Alabama, southwest Georgia and the Florida Panhandle.
In addition to the Medical Center, the Southeast Health system also includes Statera Network, the Medical Group, the Foundation and the Alabama College of Osteopathic Medicine (ACOM).