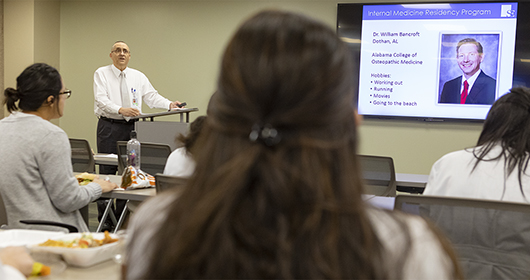 Southeast Health announces second residency class
Southeast Health Graduate Medical Education (GME) is proud to introduce the 13 medical students who were selected to fill the second internal medicine residency class at the medical center.
"Our (GME) future continues to shine bright," said James C. Jones, DO, medical director of Southeast Health's Emergency Medicine and Designated Institutional Official (DIO) of GME and the residency program. "This marks the second year we were able to fill all of our residency positions in the initial match process without help from the supplement match program (SOAP)."
One of the residents, William Bancroft, Dothan, will be graduating from the Alabama College of Osteopathic Medicine this spring. The remaining 12 residents are: James Case, Westbrook, Conn.; Sasha-Kay D'Aguilar, Silver Spring, Md.; Belqis El Ferjani, Houston, Texas; Syed Fatmi, Cockeysville, Md.; Qamar Gulzar, Ellicott, Md.; Vishaal Gupta, Chicago, Ill.; Sheila Hernandez, Orlando, Fla.; Sagar Kulkarni, Middletown, Conn.; Kateryna Marynych from Brooklyn, N.Y.; Erica Roman-Hernandez, Decatur, Ga.; Ryan Villarreal, Winter Haven, Fla.; and Tehmina Zafar, Ellicott, Md.
Their residency will begin on July 1 when they will join last year's inaugural class of 13 in the three-year program.
Approximately 2,000 candidates applied for the residency program at Southeast Health. The internal medicine team interviewed 380 of the 2,000 applicants for the 13 spots. The internal medicine team is comprised of Tom Tosto, MD, internal medicine program director; associate program directors Elie Razzouk, MD and Arash Velayali, MD; and program coordinator Patty Loftin.
"Their exceptional leadership and commitment to excellence in medical education is evident in this recent success," said Dr. Jones of the internal medicine team.
The Match Process
For applicants, the Main Residency Match process is in the fall of their final year of medical school, when they apply to the residency programs of their choice. They interview with programs during the fall and winter. From mid-January to late February, applicants and program directors rank each other in order of preference and submit the preference lists to National Resident Matching Program (NRMP).
About NRMP
The National Resident Matching Program® (NRMP®) is a private, non-profit organization established in 1952 to provide an orderly and fair mechanism for matching the preferences of applicants for U.S. residency positions with the preferences of residency program directors.