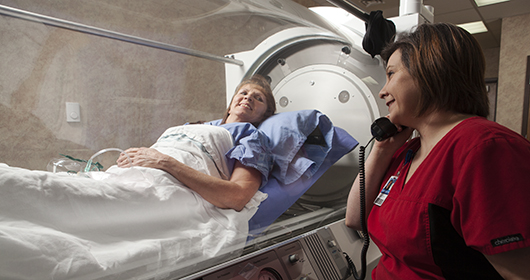 Southeast Health Wound Care
Welcome to Southeast Health Wound Care. Our professional staff is trained to provide a specialized, comprehensive course of treatment to assist in the healing process. During your treatment, we will work with your primary care physician to assure continuity of all your medical services.
At any given time almost six million Americans suffer from problem wounds. There are many different types of wounds. Some are associated with diabetic complications and others to vascular disorders. Other types include pressure sores and traumatic wounds. It can be frustrating and take time to heal these wounds. We utilize the most up-to-date healing processes, including the region's only hyperbaric oxygen therapy, and we remain current in new advances in wound care.
Southeast Health Wound Care
1908 Fairview Avenue
Dothan, AL 36301
334-699-6863
Fax: 334-699-6864
You will undergo a thorough examination to identify the type of wound you have and the problems causing it. After this, a program specially tailored to your needs will begin based on the most effective treatment options. Your treatment may include:
Wound infection management
Physical therapy
Vascular assessment
Laboratory assessment
Nutritional evaluation
Pain management
Diabetic education
Nuclear medicine testing
Radiology evaluation
Regular wound debridement
Hyperbaric Oxygen (HBO) therapy when appropriate
Once a treatment plan has begun, you will follow a regular schedule for wound care. You will be instructed on how to administer your own wound care at home, as well as how to protect your wound from complications. You are the most important part of your healing process. Keeping appointments and following directions clearly are critical to attaining a positive healing outcome.
At Southeast Health Wound Care we are designed to complement your physician's services and are committed to the treatment of your problem wounds. Our team of wound care specialists includes:
Physicians with advanced training in wound management

Christopher L. Miller, MD (medical director)
Jeffrey Fadil, MD
Jack Real, MD
J. Mark McDonald, MD

Nursing staff trained in the care of chronic wounds
Technicians who perform non-invasive studies and various therapies
Experienced support staff who assist with appointments, medical records and health insurance processing
What is Hyperbaric Oxygen Therapy?
Hyperbaric oxygen therapy (HBO) is a medical treatment used to treat a limited but diverse group of illnesses. It is often used as part of a combined program involving nursing care, dressing changes, surgical debridement, medications and nutrition. During hyperbaric oxygen therapy, the patient is placed within a clear plastic chamber which is pressurized with 100 percent oxygen up to two to three times greater than normal atmospheric pressure. This increases the oxygen level in the blood and ultimately in the body tissues. Hyperbaric oxygen is a simple concept. By providing 100 percent oxygen in a pressurized chamber, we are able to deliver two to three times that which can be provided by breathing 100 percent oxygen at normal atmospheric pressure. This "hyperbaric" (or high pressure) dose of oxygen offers distinct therapeutic benefits.
How does Hyperbaric Oxygen Therapy work?
Oxygen that is delivered to a patient in a hyperbaric chamber greatly increases the amount that can be delivered to body tissues by the blood. The benefits of hyperbaric oxygen are not from oxygen coming in contact with the surface of the body, but from breathing it and getting more in the bloodstream. Hyperbaric oxygen will be used to provide one or more of the following effects:
Increased oxygen delivery to injured tissue
New blood vessel formation
Improved infection control
Preservation of damaged tissues
Elimination of toxic substances such as carbon monoxide
Reduction of effects from toxic substances
Reduction or elimination of blood vessel obstruction by gas bubbles
Conditions we treat:
Diabetic Foot Ulcers
Osteomyelitis
Radiation wounds
Osteoradionecrosis
Radiation Cystitis
Radiation Proctitis