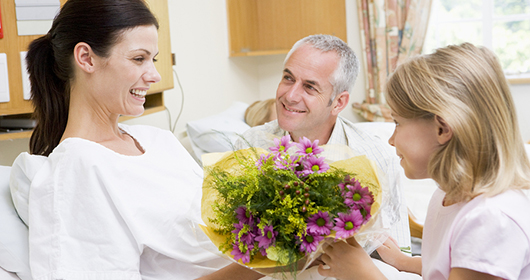 It is our pleasure to welcome you to Southeast Health.  In the past nine years, Southeast Health has experienced unprecedented growth from a community hospital to a hospital system.
Our medical staff now includes more than 350 physicians, representing virtually every medical specialty. More than 90 percent of Southeast Health's physicians are board-certified – compared to the national average of 60 percent.
At Southeast Health, we have increased physician and employee involvement in hospital initiatives to ensure quality and improve patient care.
Examples include Care Coordination Huddles, a care team review of patients on a daily basis to ensure care is being delivered in an efficient and effective manner.
These initiatives have improved quality – and patient experience – as we've seen in comments from patients about the outstanding and compassionate care they receive from our physicians and staff.
Following is information for friends and family members who are visiting patients.
While rest is important for critically ill patients, family member visitation improves patient outcomes. For that reason, we have established expanded visiting hours: 7:30 a.m. – 6:30 p.m. and 7: 30 – 9 p.m. From 9 p.m. – 7:30 a.m., one visitor may remain at the bedside.
No more than two visitors should be in a patient's room at any given time. Please note, a patient's condition may require that visitations hours be adjusted.
Families should choose a primary contact to communicate information about the patient's care and condition. Patients in the CCU require extensive nursing care. Please limit telephone calls concerning the patient's condition.
Primary nurse contacts are listed in the patient's chart and can provide basic patient information to family members and friends.
Please
click here
to view our current dining options.
Cell phones and radio transmitting devices are allowed except in Intensive Care Units or other areas where signage prohibits use. Please observe all signage where these devices are not allowed and please "power off" before entering these areas.
Please contact your nurse when notary service is required. A notary public is a person authorized by the state of Alabama to officially witness signatures on legal documents, collect sworn statements and administer oaths. A notary public uses an embossing tool to verify his or her presence at the time the documents were signed. SAMC's Case Management team has notary publics who can assist patients at the hospital with a variety of legal documents relating to power-of-attorney, guardianship and healthcare directives.
It is important for us to take care of all aspects of our patients, which is why Spiritual Care services at Southeast Health ministers to your religious and spiritual needs. We offer spiritual care to anyone who comes through our doors, including patients, their families and loved ones and Southeast Health team members. Our clinically trained chaplains are grounded in a variety of religious traditions and trained to be helpful to, and respectful of, those of all faiths, as well as those who may not be comfortable with religious beliefs.
Click here
to learn more.
The Gift Shop
The Gift Shop at Southeast Health is on the first floor near the Entrance 3 lobby. Our shop offers exciting new gift ideas from jewelry to candles, along with many items for women and men. We also carry a wide assortment of cold beverages, snacks, magazines and books. Stop by and browse Monday through Friday from 9 a.m. to 5 p.m. and weekends from 1 to 5 p.m. For more information, please call 334-793-8950.
Women's Center Boutique
Our elegant Women's Center Boutique is on the 3rd Floor next to the Comprehensive Breast Center. The boutique has a variety of women-specific products, such as gifts, unique clothing and jewelry, purses, gowns and more. The Boutique is open Monday through Friday from 9 a.m. to 5 p.m. For more information, please call 334-699-4811.
Individuals who desire an escort to their vehicle(s) during evening hours should dial extension 8014.
To make a local call from patient rooms: Dial 9, then the phone number you are trying to reach.
To make a long-distance call from patient rooms: Dial 72, then "0" and an operator will assist you.
To call a patient's room: Dial 712-3 + the patient's room number (6:00 a.m. until 9:00 p.m. only).
Callers who do not know the room number of a patient they're trying to reach may call hospital information at 334-793-8100.
CCU Waiting Room Phones: 334-793-8111 or 334-793-8111.
CVICU and ICU Waiting Room Phones: 334-793-8111.