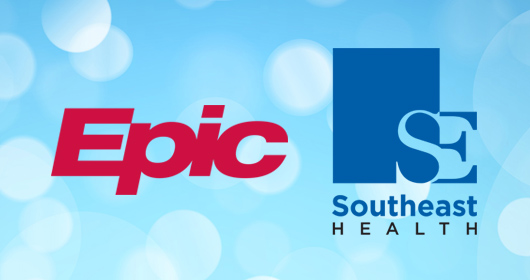 Southeast Health Selects Epic to Unite Providers and Enhance Patient Care
To enhance technology, provide tools that support caregivers effectively and sustain the highest level of quality patient care at Southeast Health, the Houston County Health Care Authority has approved a plan to adopt Epic as the comprehensive health record.
This decision was made following a thoughtful and lengthy discovery process, which included extensive input from clinical and non-clinical staff representing all major disciplines throughout the organization. The implementation of Epic will occur during calendar year 2020 with an anticipated Go Live date in the first quarter of 2021.
During this process, we found Epic to be the most comprehensive health records system available, which provides a platform for the delivery of integrated care. Adoption of Epic will allow for the replacement of more than 30 current software systems onto a single, shared platform. This new technology will make it easier for our providers to communicate and access the information they need to care for their patients.
In addition to the benefits Epic offers clinicians, patients will also enjoy the use of MyChart, a portal that allows them and their designated caregivers to access their health information, communicate with providers, schedule appointments and pay bills using an app or webpage on their phone or computer.
Epic is currently in place at 67 of the Top 100 hospitals in the nation and used by a majority of U.S. News and World Report's top-ranked hospitals and medical schools who are working collaboratively every day to improve patient care, innovate healthcare delivery and achieve financial health. Implementation of Epic will allow us to adopt many of the standards in place at the best healthcare organizations in the nation, but still be flexible and adjust for Southeast Health's needs.
Replacing our current electronic health record was identified as a strategic priority for Southeast Health in fiscal year 2018. The decision to implement Epic supports other strategic initiatives like being recognized as employer of choice, becoming a highly reliable health system and the journey to top decile clinical performance.