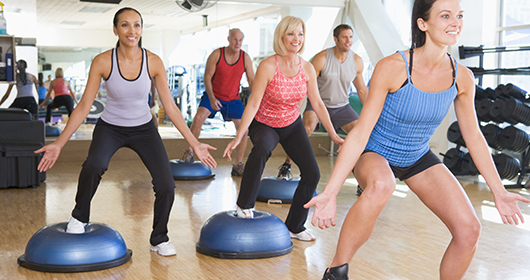 Southeast Health Fitness is a medically-based wellness facility located on the main campus at Southeast Health. The staff is knowledgeable, experienced and willing to help each member meet their health and fitness goals.
Southeast Health Fitness provides a variety of exercise machines and equipment that allows for a full-body workout. Membership is open to anyone and includes a free fitness assessment which incorporates body composition analysis, discussion of goals and orientation to a personalized workout program.
Our services and benefits include:
Personal training and wellness programs
24/7 access for members
A discounted membership for employees which can be payroll deducted
Fitness classes and group exercise programs
Dance to the rhythm of Zumba, relax with yoga or tone your body during one of our workout classes. At Southeast Health Fitness our classes are free with membership. Click here to view our
class schedule
.
We currently offer:
Zumba! – Latin music and easy-to-follow moves combine to create a fun workout.
Young Hearts – Senior Discovery workout class. $20 annual fee.
Zumba Young Hearts – Senior Discovery workout class with a Zumba flavor.
Pilates – Allow Pilates to help lengthen and strengthen your body.
Body Blast – This high energy class uses a variety of moves to tone and burn.
Yoga – Nourish the mind, body and spirit with relaxation, toning and shaping techniques.
Fitness Extreme – Our most intense and challenging class.
Power Half Hour – Short but calorie burning full body workout.
*Classes are subject to change with the changing needs of members.
Interested in membership? Download our membership application, health questionnaire and gym rules.
Have questions about whether membership is right for you? Call and speak to one of our team members or schedule a facility tour at 334-712-3720.
Southeast Health Fitness offers affordable pricing options, rates are as follows:
Six month membership contract rates:
General Membership (non-employee):
$30 per month for one
$53 per month for family of two
$75 per month for family of three
Southeast Health Employees:
$10 per pay period
Alabama College of Osteopathic Medicine Students:
$15 per month with a student ID
Healthcare Employees:
$22 per month
Non-contract rates:
$5 per day
$10 per week
$40 per month
Have questions about whether membership is right for you? Call and speak to one of our team members or schedule a facility tour at 334-712-3720.
Orientation Assistance
Any member can receive a free orientation where a personal trainer takes a client to each cardio and weight machine teaching you how to use the machine and what exercises you can do on each machine
Body Composition Readings
We help members help reach their fitness goals by keeping track of progress.
Body Fat Analysis:Learn your percent body fat along with lean fat mass. By: Skinfold Caliper – The skin fold thickness is measured at various body locations. A calculation is then used to derive a body fat percentage based on the sum of the measurements.
Body Fat Analysis:Calculated by a weak electrical current that passes through the body to determine the amount of fat tissue.
Body Mass Index (BMI):Ratio of your height to weight that places you in a healthy-unhealthy category.
Measurements:Waist, hip, arm, and leg measurements can be taken to help you see you weight loss in inches instead of just on the scale.
Weight:Weight can be taken and tracked at any time.
Challenges
Annual challenges are implemented to help motivate our members and keep them from getting bored with their work outs.
Personal Training
We know that the path to wellness needs to be as individual as you are. That is why we've created the Personal Training program. All Living Well Fitness trainers are experienced and certified through a nationally certified agency. This distinction sets them apart as experts in the field. Personal Training packages are available at an additional cost.
Wellness Programs
Living Well Fitness sponsors a variety of wellness programs and challenges throughout the year to help members with nutrition, weight management, exercise and more. We strive to make living a healthy lifestyle attainable and fun.
Towel Service
Sometimes it is the little things that matter, that's why towels are provided at the facility for your convenience.
Southeast Health Fitness is located on the corner of Ross Clark Circle and Fairview Avenue on the main campus of Southeast Health. The main entrance is on the opposite side of Ross Clark Circle. Our members have 24/7 access to Living Well Fitness through the purchase of a key fob. Staff is present on site Monday through Friday from 6:30 a.m. to 6:30 pm.
Southeast Health Fitness
1144 Ross Clark Circle
Dothan, Alabama 36301
334-712-3720
For more information on Southeast Health Fitness, please call 334-712-3720. You can also find us on the Mindbody App.