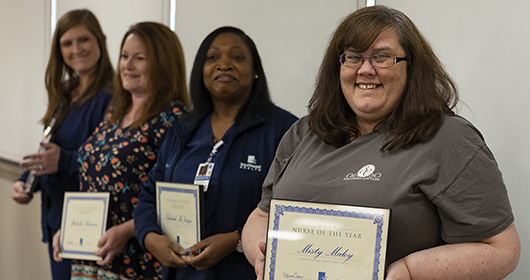 Misty Maloy named Southeast Health Nurse of the Year
Misty Maloy, clinical supervisor in the Behavioral Medicine Unit, is the 2019 Southeast Health Nurse of the Year. Misty is a two-time Nurse of the Month recipient, garnering the recognition in August and January.
"Misty is very deserving of the Nurse of the Year award. I came to know Misty as a new grad after she was hired to work on Three East," said Melissa Owens, Chief Nursing Officer. "She has a very calming nature and humble spirit. Misty exemplifies our values in her everyday work and has been consistently recognized by her co-workers, physicians and patients for her actions."
Melissa said she also has an infectious smile and brings joy to those around her just by being near. Melissa said, just like herself, Misty isn't a nurse for the recognition. For both Melissa and Misty, it is truly a calling.
"Misty is a compassionate and exceptional nurse, who always goes above and beyond with the patients in her care," said Julie McLaughlin, Case Management, in her nomination for Nurse of the Month in January.
Julie shared how Misty was scheduled to work Thanksgiving and she freely gave of her time and resources to make the day extra special for her patients. She did crafts with the patients the day before, making hats for everyone including herself.
"Thanksgiving Day she brought all the patients together for snacks and football," Julie said. "She united the staff and patients to provide a traditional Thanksgiving atmosphere on the unit. This is just a small instance of the many ways that Misty embodies the core values of Southeast Health."
Other team members believe Misty has no equal when it comes to her dedication to her job. She is dedicated to her patients and her teammates. She is known for always going the extra mile in the work place.
"Misty has such a passion and love for her career," said a former co-worker. "She is kind hearted and compassionate, and more then deserving to be Nurse of the Month."
The Nurse of the Year finalists were: Khaliah McIntyre, Two East; Thomas (Tommy) Leathers, Critical Care; Michelle Brunson, Family Birth Center; and Morgan Kyzar, Neurocritical Care.