Southeast Health is addressing the region's physician shortage in innovative ways
by Taylor Williams, Vice President, Southeast Health Medical Group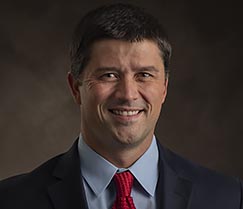 Attracting, recruiting and retaining quality physicians are critical issues being addressed nationwide by healthcare providers. By 2030 the U. S. could face a shortage of up to 121,000 physicians, including 49,000 primary care doctors, according to the Association of American Medical Colleges.
At Southeast Health, we've taken aggressive steps to address the physician shortage within our region. We were one of the first hospitals not associated with an existing college to establish a medical school in 2013. Today, the Alabama College of Osteopathic Medicine has graduated two classes. As a result, 266 new physicians are training in residency programs nationwide.
Once physicians complete medical school, they attend a graduate medical education program known as a residency. It's in residency that physicians receive in-depth training within a medical specialty. For instance, a neurosurgeon typically completes seven years of residency training before entering practice.
As part of our commitment to advancing medical education in our region, Southeast Health launched our first residency training program in July. We now have 13 bright physicians training in internal medicine here in Dothan.
Launching a residency program was an important step in our plan to improve access to primary care in our region. New physicians can choose to practice anywhere and 70 percent of physicians receive 50 or more job opportunities. We know physicians often practice near the communities where they complete their training.
Employment by hospitals and large group practices has become a preferred option for most new physicians. As such, we've made another important investment in growing Southeast Health Medical Group. Having a strong medical group is imperative to address the physician shortage in our community and helps ensure that we can meet the diverse needs of our patients.
You are probably aware that the healthcare environment has become increasingly complex, causing a significant shift in the number of physicians seeking hospital employment over traditional private practice. From 2012 to 2016, the number of physicians employed by hospitals increased from 26 percent to 42 percent nationwide.
Physician burnout is a leading cause for some doctors to leave private practices due to administrative responsibilities to manage a private practice, especially in underserved, rural areas. Some of those duties include management of electronic health records, office expenses, staff and payroll to support a private practice are some of the duties.
Today, Southeast Health Medical Group employs 187 physicians and advance practice providers offering a vast array of services as the region's largest multispecialty group. We average about 37,000 patient visits each month, which adds up to more than 400,000 annually.
One of our goals among the medical group leadership is to reduce the administrative burden for our providers – so they can dedicate their time and focus to caring for our patients. Billing, scheduling, clinical operations, patient referrals, physician workflow and time management optimization are some of the focus areas.
 We have also placed an emphasis on achieving important quality targets. Southeast Health Medical Group recently received a Centers for Medicare and Medicaid Services (CMS) Quality Score of 95.5 out of a possible 100, which ranks us among the best nationally in Medicare's Merit-based Incentive Payment System (MIPS) program.
Having a strong medical group is one component of building a robust, sustainable healthcare system for the future. That's why it's important for me to pay tribute to all the physicians and advance practice providers who are serving our community by dedicating their lives to medicine. At Southeast Health we work hand in hand with employed, independent and contracted physicians to meet the needs of our patients.
And while our medical group has grown, over half of the organization's medical staff is comprised of independent physicians. These men and women work very hard each day helping us care for patients, but they also provide valuable input into special projects and serve on committees that influence quality and patient care across the organization.
A great example of this work is the partnership we've created with our physicians through Statera Health, our clinically integrated network. This organization brings together hospital leaders, employed physicians and independent physicians who work together to reduce the cost of care for patients while improving quality. It's important work – and all the partners are vital to organizational success.
These are a few of the innovative ways we are strengthening an already great healthcare system for our region. We have learned that with a dedicated focus, we can attract the best employees and physicians while continuing to provide high-quality patient care and satisfaction for everyone we serve in the region.
______________________________________________
This is part of an ongoing series covering the impact of changes in healthcare in our region.