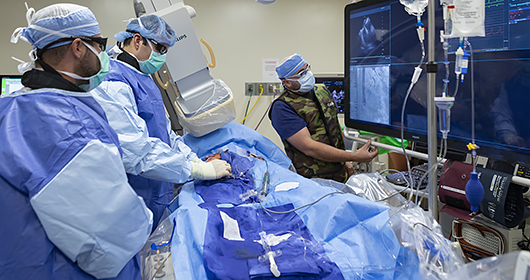 Revolutionary stroke preventing procedure now offered in Dothan
A Southeast Health heart physician recently executed a revolutionary, stroke preventing procedure that had never before been performed in Dothan.
Arthur C. Kendig, MD, electrophysiologist (EP) cardiologist successfully performed the region's first two Watchman heart implants recently in the Southeast Health Heart and Vascular Center.
While this was the first time the Watchman procedure was performed in Dothan, Dr. Kendig has been implanting the heart device into patients since 2016 when he was practicing in Savannah, Georgia.
"Both patients came through the procedures without any problems," Dr. Kendig said. "We have assembled a talented clinical team to ensure the success of this program."
Watchman is a one-time procedure that may reduce stroke risk for a lifetime in people with atrial fibrillation (A-Fib), in cases not caused by heart valve problems. A-Fib is an irregular heartbeat, which if untreated, can cause blood clots, stroke, heart failure, and other heart-related complications.
Traditionally, A-Fib has been treated with blood thinners. However, some patients can't tolerate blood thinners. The Watchman, in some patients, can eliminate the need for blood thinners and reduce the risk of severe bleeding.
"This can be a life changing procedure," Dr. Kendig said. "This is another example of how Southeast Health is committed to providing this region with the most comprehensive heart care."
Using a minimally invasive heart catheterization technique, the Watchman is implanted in the left atrial appendage, sealing it off so the blood bypasses it — reducing the risk of blood clot formation. Ninety percent of non-vascular strokes are caused by clots that occur in the left atrial appendage.
Most patients who receive the Watchman implant are discharged the day after having the procedure.
The Watchman is the latest procedure offered in Southeast Health's structural heart program. For more information and to find out if you are a candidate for the Watchman procedure, call 334-712-3738.