Attracting, retaining and training physicians – for the future of health care
by James C. Jones | Interim Dean, Alabama College of Osteopathic Medicine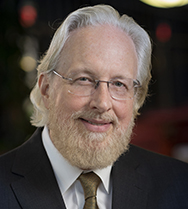 Southeast Health, the region's healthcare innovator, is well positioned to meet the future needs of our patients. For more than 60 years we have provided you – our patients – with talented physicians and staff, the latest in medical technology and upgraded facilities. However, an alarming statistic that we take seriously is the pending shortage of physicians in the United States. By 2025, the United States may face a critical shortage of up to 90,000 physicians, according to some estimates.
To address this potential shortage, the Houston County Health Care Authority had the innovative foresight to establish Southeast Health as more than a regional referral center. Southeast Health, with the leadership of the Authority, has transitioned into an academic, community-based health system since the creation of the Alabama College of Osteopathic Medicine (ACOM) and the establishment of the Graduate Medical Education (GME) program.
In my newest role as interim dean of ACOM, we are attracting and educating some of the brightest people to become future physicians. I am also maintaining my responsibilities as designated institutional official (DIO) and director of Medical Education for undergraduate and graduate medical students and physicians. Our medical students rotate among services at our hospital and our partner hospitals throughout the region. I am responsible for overseeing resident training and ensuring we meet requirements set out by the Accreditation Council for Graduate Medical Education (ACGME).
Research shows that many physicians practice close to where they train. With that in mind, ACOM actively supports the Alabama Medical Education Consortium's (AMEC) mission to develop residency programs in primary care to help minimize the shortage of physicians in rural and underserved communities.
We graduated our first class of ACOM physicians in 2017. Upon graduation from medical school, students receive specialized training through residencies and fellowships.
In 2016, Southeast Health was approved as a sponsoring institution by ACGME, confirming we have the policies, commitment, resources and capabilities to train residents.
Southeast Health launched an internal medicine residency program in 2018. Internal medicine is a core specialty and prepares doctors for primary care practice, as well as for further training in sub-specialties of internal medicine.
Our internal medicine residency is a three-year-program. We have 13 residents per year and recently matched the second group. We currently have 26 residents in training. Next year, we'll add an additional 13, bringing our internal medicine residents to 39.
These residents train in four-week block rotations, with two-thirds of their time in a hospital setting and specialty areas like cardiology, gastroenterology and critical care. The other third of their time is in an outpatient primary care clinic setting. So ultimately, they gain experience in both hospital and clinic settings.
Southeast Health's GME program has an institutional focus on academic medicine as required by ACGME. This focus leads to best practice and evidence-based diagnostic tools and treatment in internal medicine. We see this as a continuation of general medical education at the graduate level.
And we're also looking to the future, including planning residency programs in Emergency Medicine and other areas where we have the ability to provide excellent training because of higher patient volumes and talented faculty. Emergency Medicine is a high priority because we operate an Emergency Department with a Level II Trauma Center, caring for almost 60,000 patients annually.
Investing in training is a big commitment and it is one that the Houston County Health Care Authority sees as a priority. There is a physician shortage here and nationwide, and there's a small number of training programs in the state. ACOM is working with AMEC to encourage development of other residency programs in Alabama. We're working on all these initiatives, because when the future gets here, we are well positioned to care for our community and the region.